The VSV 'Leonardo da Vinci' cannot exist without her active members. They are the beating heart of the association, consisting of approximately 200 students who work days and sometimes nights to organize activities for the almost 2500 members. Some of these active members put in so much effort, mean so much for the association, that we distinguish these by designating them as members of merit.
Lukas Müller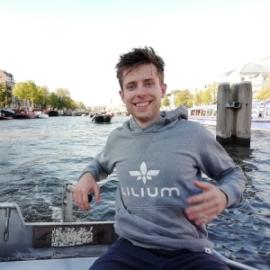 Despite all the VSV's parties and social events that Lukas Müller enjoys attending, he immediately dove into the more serious and demanding committees as a young aerospace engineering student. In the B2 committee, he ensured that the quality of education was continuously assessed and raised to a higher level. Soon after that, he took on the challenge of becoming Chairman of the Script Committee. Our website, the one that the VSV knows today, would simply not exist if it hadn't been for his hard work and contribution. But his ScriptCie career does not end here. Up until this day, he is actively engaged in the online development and he is now working on a new VSV website and house style together with his fellow ScriptCie colleagues, for which the society is very thankful. Furthermore, he has taken part in the M1 evaluation committee for FPP, along with the function of Logistics in the Studytour committee. Organising an amazing trip to France, Italy and Dubai, he proved his passion for Aerospace Engineering and visited some of the most leading companies within the industry. Now, he is in charge of the faculty communication and promotional affairs within Master Department 'Apollo' and continues to amaze us with his dedication and warm heart for the VSV 'Leonardo da Vinci'. We are proud to have him as one of our members of merit and we would like to thank him for his commitment and hard work online behind the scenes.
Marijn van Oorschot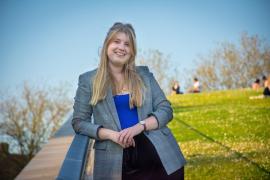 Marijn started her VSV career back in 2015 as part of the C1A, organising activities for freshmen. She liked this so much that she decided to continue on to organise the biggest freshmen activity of the VSV: the Freshmen Weekend! Her VSV was far from over, though: after this, she would continue on to be part of the DeBaCo, FiFoCo, Study Tour, Space Department, TapCie, and MediaCo. She has not just distinguished herself by the great amount of committees, of course. Behind the scenes, she has helped out with a great deal of other VSV events and activities, particularly in the transition to the digital world during COVID-19. She has definitely earned her place as Member of Merit of our association! 
Bastiaan Bosman
There are few constants in life, but two are Bastiaan's undying love for space, and for Feyenoord. While the VSV has no such connection with Feyenoord, there is definitely an overlap in our love for spaceflight. It then comes as no surprise that Bastiaan has spent a large amount of his time at our association within this area. It all started in the Space Department, where he organised the annual VSV symposium and continued in the Pre-Lustrum committee, which initiated what would later become known as the 'Da Vinci Satellite' project. Over the past three years, Bastiaan has been one of the driving forces elevating this project to the heights it has reached so far. Definitely an accomplishment worthy of the 'Member of Merit' title. 
Jan Post